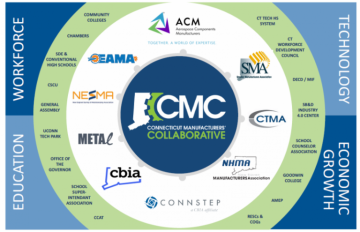 ASSOCIATION RESOURCES
ManufactureCT is one of nine partners in CMC (Connecticut Manufacturers' Collaborative), see graphic on right.  The CMC is comprised of all the major regional and statewide manufacturing member organizations across Connecticut. Collectively, we represent over 1200 manufacturing companies with tens of thousands of employees throughout all of Connecticut.
STATE RESOURCES
Educational/Training Resources
180Skills -Learning Pathways developed by Connecticut's manufacturing community.
Skill Up for Manufacturing – This course will familiarize students with the basic mechanic and manufacturing skills

and engineering knowledge required for an entry level employee in a manufacturing or related field. The course will cover basic trade knowledge, workplace skills and production readiness

Housatonic  CC – In less than 10 months Housatonic Community College's Advanced 

Manufacturing

Technology Center can help you make what you want …. a great career
Resources to Support Small Businesses in Connecticut
OTHER STATE RESOURCES
Wisconsin – NEW Manufacturing Alliance's Get Real Math – The Get Real Math videos showcase over 40 math skills used in the real world. The videos serve as a capstone after a skill is learned in school to be applied in a real world situation at a manufacturing company. Math skills featured are 3rd grade through high school. The lesson plans were created by math teachers.
FEDERAL RESOURCES
Apprenticeship Toolkit – US DOL
ManufactureCT VIDEO LINKS